This article is an overview of USoft Academy for trainers and for human resources professionals who need to staff USoft projects or seek to train personnel.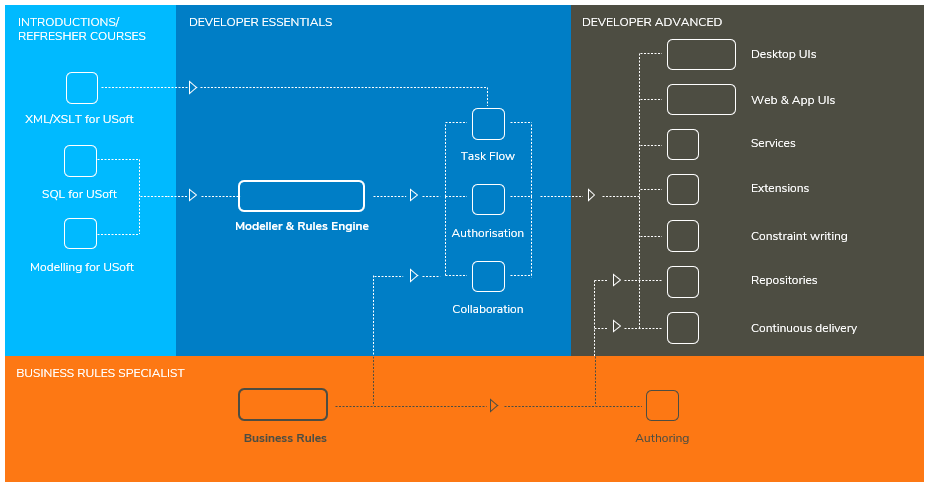 Here is a list of subjects. Each subject has a corresponding section in the Knowledge Base that you are visiting now. There, you can find content details. A formal content description, which supports self-study, is available in PDF for all subjects where this is indicated (column "Described").
Business rules specialist
| Subject | Takes | Prerequisites | Described |
| --- | --- | --- | --- |
| Business Rules | 2 days | General* | Yes, see below |
| Authoring | 1 day | Business Rules | No |
*Business rules specialists require general experience in a business analyst or product owner role.
Developer, essentials
Subject
Takes
Prerequisites
Described
Modeller & Rules Engine
3 days
SQL, Modelling
Yes, see below
Task Flow
1 day

Modeller & Rules Engine

XML/XSLT

Yes, see below
Authorisation & Access
1 day
Modeller & Rules Engine
Yes, see below
Collaboration
1 day
Modeller & Rules Engine
Yes, see below
Introductions and refresher courses
| Subject | Takes | Prerequisites | Described |
| --- | --- | --- | --- |
| SQL for USoft | 1 day | None | No |
| Modelling for USoft | 1 day | None | No |
| XML/XSLT for USoft | 1 day | None | No |
Developer, advanced
Subject
Takes
Prerequisites
Described
Covers
Desktop UIs
2 days
Modeller & Rules Engine
Task Flow
Authorisation
Collaboration
No
USoft Windows Designer
Web & App UIs
2 days
Modeller & Rules Engine
Task Flow
Authorisation
Collaboration
No
USoft Web Designer
Services
1 day
Modeller & Rules Engine
No
USoft Service Definer
Extensions
1 day
Modeller & Rules Engine
No
Calling components from rules
Constraint Writing
1 day
Modeller & Rules Engine
No
Advanced constraints SQL and handling
Repositories
1 day
Modeller & Rules Engine
No

Modular development

Object Shopping

Continuous Delivery
1 day
Modeller & Rules Engine
No
USoft Delivery Manager